As most of you probably expected, Sommarhack will be back in 2016 again.

We plan to change very little from last year, except we're iron clad determined to beat ggn in the game compos. It's been pretty embarrassing so far!

For old and new Sommarhack visitors, welcome!

Contacting us

sommarhack@dhs.nu

Preliminary time table


| | | |
| --- | --- | --- |
| Friday | 14:00 | Party opens |
| Friday | 20:00 | Game competition 1 |
| Saturday | 16:00 | Game competition 2 |
| Saturday | 17:00 | Deadline for demo/music/graphic |
| Saturday | 21:00 | Competitions |
| Saturday | 22:30 | Competition results |
| Sunday | 14:00 | Party closes |


Weather forecast

The last forecart before the party, could be worse.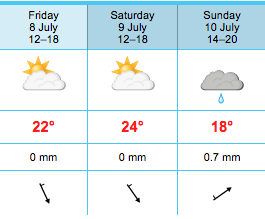 News

July 9, 2016
Sommarhack 2016 is over, thanks to all visitors and those who sent in remote entries!
The date for Sommarhack 2017 is set, and will take place July 7-9.

All releases with videos can be downloaded from Demozoo.

July 6, 2016
Hencox / Nature is giving away two Atari monitors at Sommarhack 2016, see his post on dhs.nu.

June 22, 2016
All tickets, including the ones without table space are sold out. See you in July!

June 12, 2016
The game compos are set! Start practise Obsession on the Atari STe and Dropzone on the Atari XL/XE!

June 1, 2016
An additional demo compo added, the cancelled GCWDDII 1-bitplane compo is moved to Sommarhack!

May 29, 2016
On request, t-shirts for Sommarhack 2016 are NOW AVAILABLE from Cafepress.

March 2, 2016
Wow, that was quick. All tickets with table space sold out in just over a day. We still have a few tickets for visitors without computer.

March 1, 2016
A new hostel found (Hedemora Logi), quite close to the train station. More info on the travel page.

March 1, 2016
The tickets are now released and we're ready to receive your booking. Hurry up as we only have 24 computer seats an a few more without table space.

February 18, 2016
A new small bed (without breakfast) place found, only 500 meters from the party. More info at the travel page.

February 14, 2016
The large cabin/houses at Rensbo are fully booked, rats!

February 7, 2016
Web page opened, welcome!

December 25, 2015
Reboot released a great Jaguar invitation demo for Sommarhack 2016!
Check it out!