The party place is limited in size and we have a maximum of twenty four tickets with computer seating and about a dozen more without table space.

Price with computer place: 20 EUR / 200 SEK SOLD OUT
Price without computer place: 15 EUR / 150 SEK SOLD OUT


Payment is done either via Swish (Sweden only) or PayPal, the ticket is reserved after payment is done. Please send an email to ae@dhs.nu alongside the payment, we will confirm the booking as quickly as possible.

Swish: 0706438754
PayPal: ae@dhs.nu


Special t-shirt offer!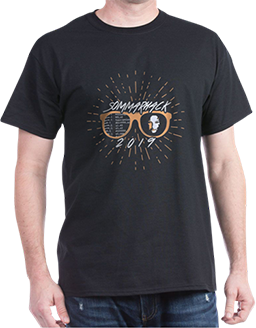 Thanks to Ultra of Cream, the Sommarhack visitors had the possibility to order a Sommarhack 2019 t-shirt at a very affordable price. The offer is no longer valid as the shirts are now being produced.

We'd like to thank Ultra a whole lot for his generous support!




Registred tickets


| | | | |
| --- | --- | --- | --- |
| 1 | | Acca | |
| 2 | | Excellence in Art / SMFX | |
| 3 | | ET / DHS | |
| 4 | | Dafvid / DHS | |
| 5 | | Slort / DHS | |
| 6 | | Evil / DHS | |
| 7 | | Freeco / New Beat | |
| 8 | | Speechless / DHS | |
| 9 | | Zorro / Ghost | |
| 10 | | Daniel / New Beat | |
| 11 | | spkr / SMFX | |
| 12 | | mOdmate / SMFX | |
| 13 | | GGN / KŁA | |
| 14 | | Britelite / Dekadence | |
| 15 | | Ricky Martin / Dekadence | |
| 16 | | Deez / Evolution | |
| 17 | | 505 / SMFX | |
| 18 | | Wiztom / Aggression | |
| 19 | | Partycle / Reservoir Gods | |
| 20 | | Instream / Nature | |
| 21 | | Hencox / Nature | |
| 22 | | PeP | |
| 23 | | Damo / Reservoir Gods | |
| 24 | | Nerve / Ephidrena | |
| 25 | | Crazy Q / DHS | |
| 26 | | Frequent / Ephidrena | |
| 27 | | Emphii / Extream | |
| 28 | | gwEm / Psycho Hacking Force | |
| 29 | | Baggio / Evolution | |
| 30 | | No / Escape | |
| 31 | | Thomas / New Beat | |
| 32 | | Bikerdude | |
| 33 | | MiKRO / Mystic Bytes | |
| 34 | | XI / Satantronic | |
| 35 | | Sedma | |
| 36 | | Roman (mini XI) | |
| 37 | | Peter | |
| 38 | | Greenious / 2-Life Crew | |
| 39 | | RobertK / IMPonance | |

Ticket with table seating


Ticket without table seating


0 tickets left with table space SOLD OUT
-2 tickets left without table space SOLD OUT