Sommarhack 2012

The only swedish Atari demoparty will be back in the crossing between june and july 2012. The usual suspects, the usual bugs, the usual compos, the usual food.. To put it short, Sommarhack will be what you're used to.

Please browse around and if you miss some information, don't hesitate to contact us with your questions. See the footer for contact infos.


---
---

Dates
June 29 to July 1, 2012

Location
Malmgården, Grådö, Hedemora, Dalarna, Sweden


---
---

Thursday
For early arrivals. The house will probably be locked down until evening. Then opened up but without any party facilities set up. Early arrivers will be asked to help carrying tables and so forth :)

Friday
12:00 : The party begins officially
14:00 : Barbecue grill fires up for the first time
19:00 : Barbecue again

Saturday
14:00 : Yeah you guessed it, it's barbecue time
17:00 : Deadline for all compos!
19:00 : Barbecue, hell yes!
22:00 : Compos and prizegiving

Sunday
14:00 : The party ends, all stuff will have to be out of the house by this time so we can clean it up. You can still chill out outside for the remainder of the day. The house will likely be locked up around 16:00 though.


---
---

July 2, 2012:
Party over!
Thanks to everyone who visted and sent in contributions.
Although we did get some rain this year, it went pretty well for the most part.
All competition entries can be found on the Dead Hackers Society download page and the demos are also listed on Pouet.Net.

June 27, 2012:
Weather forecast: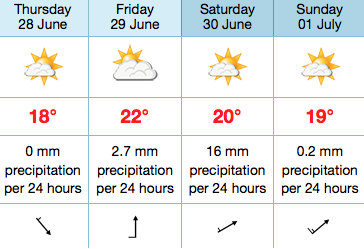 May 13, 2012:
TODO-list for organisers added

April 24, 2012:
We've had several queries about early arrival on thursday, the day before we officially open. Yes it's alright to arrive thursday evening, the house will be open but there will be no tables, internet or anything setup. You can use the toilets and shower, but apart from that you're on your own. You also risk being asked to help carry tables and stuff :-)

February 12, 2012:
Website updated with party information.

November 30, 2011:
Invitation intro by Ukko and 505 released. See the invite page!